Lodon-based social media analytics firm PeerIndex has launched a crowdfunding campaign, looking to raise $500k for further product development in exchange for a 10% stake in the company.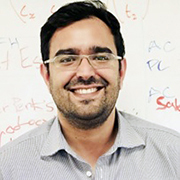 PeerIndex was founded in 2009 by former Guardian correspondent Azeem Azhar, ex-McKinsey consultant Ditlev Schwanenflügel, and Bill Emmott, the former Editor of The Economist, backed by a number of Internet investors. In 2012 the firm 
raised
 £3m in Series A funds, for expansion of both its commercial model and its 'PeerPerks' consumer-facing influence marketing service. Last year, the company 
launched
 a new platform which rewards consumers with products and discounts in exchange for their influence on social media networking sites. 
The crowdfunding campaign is running on the Seedrs platform and will offer a 10% stake in the firm, which is currently valued at £4.5m, in exchange for the money. Funds will be used to drive development of its PiQ Twitter analysis tool, which helps marketers identify an audience interested in specific topics, and establish influencers within that audience. 
Azhar (pictured) explains: 'It is a natural fit for a firm like ours, which demonstrates the power of the person, to use equity crowdfunding and go directly to supporters who share in our vision and want to be a part of our success. Equity crowdfunding is now a viable path for software companies to raise development funds, as people have become more comfortable with social-network enabled platforms competing with old school ways of doing business.' 
Posted from:
http://www.mrweb.com/drno/news19660.htm