This morning (November 26th, 2014) I participated in the DotComplicated show hosted by Randi Zuckerberg with fellow guests Leila Janah from Samasource, Rachel Sklar from theli.st, David Hewitt from Heed Your Call and Danae Ringlemann from Indiegogo to talk about crowdfunding for charities. It made me reflect on how philanthropy and fundraising have evolved over the last few years.
Once upon a time, fundraising was a pastime of the wealthy. Buttoned-up men and women in pearls hosted elaborate galas, aimed at honoring just the right person in order to boost attendance and support for their cause. Anyone who was anyone was invited, expected to attend, and donate generously -- because they could afford to.
The elite served the elite, for the sake of worthy causes that needed the help, sitting on boards, and organizing parties and private dinners to drum up donations. I have been around long enough to remember some of these techniques - like the old "spray and pray" approach of sending out a mass mailing, and fervently hoping the money would come flooding in.
How times have changed.
Go Social or Go Home
Sure, the traditional techniques above are still used, but the dawn of social fundraising has democratized fundraising so that deep pockets are no longer required. Anyone with five dollars and a smartphone can be a philanthropist. Welcome, to the age of social media -- the great equalizer.
Nonprofits that are used to relying on super donors writing hefty checks need to learn to embrace a better way: The idea of crowd-funding, where numerous smaller donations add up, powered by social media marketing.
Think about the Obama campaign - -which is a perfect example of crowd-funding. There wasn't any one major contributor that put our current president in office. It was a flood of small donations. I didn't know anyone who hadn't donated by the time he was elected.
Or consider the #IceBucketChallenge - the results of which argue the merits of social media as a fundraising platform far better than I ever could. Social fundraising is a real thing, capable of raising millions.
Savvy nonprofits are leveraging this trend born of technology, recognizing that social fundraising has already changed the sector forever (and for the better). Applying social efforts will give you greater return on every form of fundraising your organization uses.
Though fundraising through old school methods still reigns, but layering social media on top of them is what makes a campaign or message explode and go viral.
So if you're one of the hold-outs, it's time to shake off your doubts and add social fundraising to your toolbox.
Mo' Message, Mo' Money
To the uninitiated, a foray into social media can feel like being lost in a foreign land. You don't know where you are, where you should be, and everyone is speaking with a strange dialect you don't quite understand. Some suggest (and perhaps hope) that it's all just a flash in the pan, so no point in wasting time assimilating in case it all just goes away.
But it's not going to. If anything, it's going to get bigger, and by opting out you're missing important learning moments along its evolution. Not to mention serious donations.
Online donations continue to increase year after year, bolstered by the now common practice of texting donations after major natural disasters, and the growing awareness and popularity of #GivingTuesday. Giving is easier than ever before, and social media is making it trendy -literally, thanks to smart use of hashtags. Social fundraising canincrease your fundraising totals by up to 40%. How can you say no to that?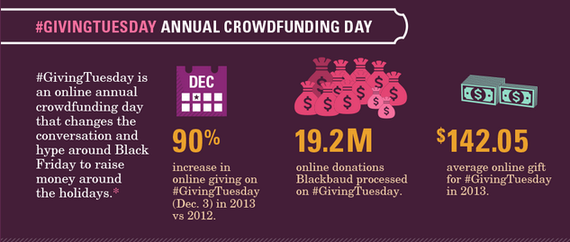 Image Credit: Craig Newmark's Crowdfunding Infographic
Social media has also provided an outlet for organizations to raise awareness like never before, allowing people who aren't wealthy an opportunity to help simply by sharing information with friends who can afford to donate. It also enables people to make micro-donations, knowing that even a single dollar (something they'd not write a check for), when pooled with the donations of hundreds of thousands or millions of others, will make a difference.
And all of this without paying for postage. See the average money raised by individual and campaigns via crowdfunding below.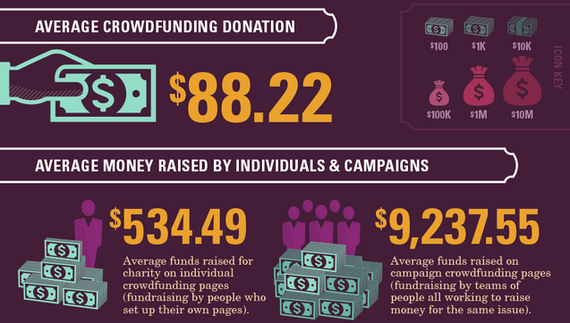 Image Credit: Craig Newmark's Crowdfunding Infographic
Let the Experts Be the Experts
Have I convinced you that social fundraising is an important element to your overall fundraising strategies? If so, your first inclination might be to go full tilt with the idea and look into developing a $10,000 proprietary online fundraising platform of your own. Don't.
You don't need it, and it would be a complete waste of resources. Because on top of the fact that it will eat up a lot of time in creation and maintenance, it will eat up money not just in the initial development, but in the overhaul you'll need to do when it becomes obsolete in a few short years.
And it's not part of your mission. A fundraising platform is simply another tool to help you with your actual mission, raising funds for your amazing cause. And there are many platforms out there, ready to do the work for you, without any of the headaches you'd incur making your own.
There are numerous platforms to choose from, and all have their merits. My favorites are Network For Good, Razoo, Crowdrise and Indiegogo.
The Future is Now
Social fundraising has grown, and will continue to as tech-savvy generations like Millennials make it even more common-place to live the digital life. Even older generations will become increasingly comfortable with social media and online giving as more and more of them transition to smartphones.
Adding social fundraising to your organization's arsenal will be beneficial, even if it feels like a big change right now. Take it in steps, adding a fundraising platform, and integrating social media into your overall marketing, if you haven't already.
Keep using any traditional methods that are working for you, but use social media to supplement your promotional efforts and see how much farther you're able to reach with social fundraising.
Soon enough you'll be wondering how your organization ever lived without it . . . if you aren't already. Let's discuss how you feel about it!
Posted from : http://www.huffingtonpost.com/ritusharma/democratization-of-philanthropy-through-crowdfunding_b_6228654.html