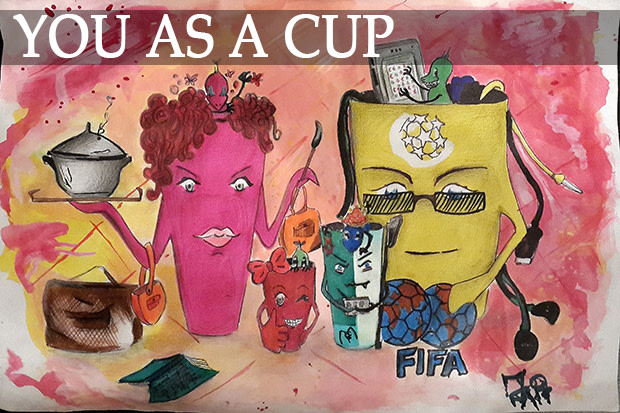 Did you ever tried to see yourself as an object? How do you think you look like if you were a cup?

What is this all about?

Hello there,

The artist that i represent in this campaign is a 15 years old rising artist that goes by the nickname Jo Cho (Ioana is the real name). We live in Romania, in a beautiful town called Brasov.


Ioana came up with the idea of drawing friends and family as cups, glasses etc., trying to capture the main features each one have. So we decided to give the opportunity to have one of these unique drawings.

What We Need

She is getting better and better everyday and is time for her to also get better in the digital art. She has already tried and used Samsung Note Tablet, but the software is limited and the screen is small for what she can do, so we decided to give a try and start this campaign to get her a professional Wacom Cintiq 22 HD Touch tablet that will give her a great boost ( 

http://www.wacom.com/en-us/products/pen-displays/cintiq-22-hd-touch

 )

The tablet is around $2500, the rest of the money will be used for materials to do the drawings and mail them to you.

Visit her FB page for more here


What You Get

If you are interested on getting an unique piece of art, we are happy to make one for you (Ioana is :) )

We offer you a drawing of you as a cup like this one (with your own unique features, this is just an example). Size A4 or A3 :

We offer you and your friend, spouse  or family member a drawing of you as cups like this one on A4 size:

We offer you and your family a drawing of all of you as cups on A3 size paper, like this one:

We use high quality paper 300g/mp and all kind of materials to give the best quality drawing :)

What you get extra for your perks


Beside the drawing you choose, we will send you an thank you video and a Thank you card handwritten by the artist. 

Please, right after you contribute to this campaign, send us the picture and the short description of yourself and your family/ friends (if the case), so Ioana can start working on your drawing. Like this, you will get it as soon as possible. 



If we reach $4000

We will make a printed album of all the drawings, mention the owner under each drawing and send you a copy (to all that chose a drawing from the perks).